when God comes down the stairs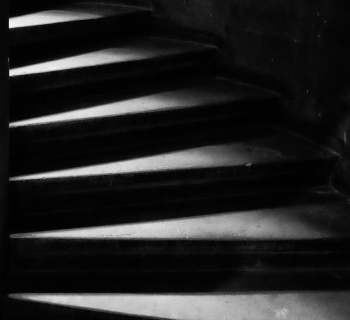 I'm staying with a friend in Minneapolis for a week in between speaking engagements. Last time I was at her place, it was early January.  I had spent a month with family over the holidays — resting, laughing, eating and doing very little writing or public speaking.  So during my time in MN in January, I had all kinds of energy.
I spent 3-4 hours each morning reading, praying, journaling, studying and writing.  I was excited and inspired, and I began a 30-day intercession experiment.  I prayed for several dozen people every day for the next 30 days.  It was so fun and so life-giving!
Okay. Fast-forward to now, when I feel like I'm on chronic deadline for a book that's mostly written and yet the rest of it refuses to come, no matter how hard I try to put it down on paper.  I spoke five times last week and traveled thousands and thousands of miles.
I arrived at my friend's place wanting this experience to be what it was last time.   But instead of arriving filled with energy, I slid into her house on fumes.
I open my Bible and just stare at words that my tired brain is too tired to process.  I've tried writing more of the manuscript, and I've made a little progress, but it's not the stunning, sudden success I was hoping for.
I feel guilty that I'm not doing more, and that feeling is compounded by the fact that it's Lent.
Lent.  A word that reminds me of deprivation, sacrifice, suffering and giving something up to stay open to God.
My heart wants to engage in Lent this year more than ever, but I'm too weary to think about trying, working, suffering….all of those good -ing words.  And I realized, as I've been trying to figure out what Lent is about for me this year, that I was trying so hard to get close to God, it was more about me than him.
I was on a retreat with my church staff a few years ago, and the head pastor started off the retreat by asking a simple question: "Who's more responsible for your relationship with God — you or God?"
The answer is clearly God, right?  "We loved him because he first loved us…." and all the other verses that talk about God initiating and sustaining a relationship with us.
But I think it's taken until now for me to "get" it.  For me to see that God doesn't need me to try harder to get closer to him.  God is already here, already working, already close.  And maybe the best thing I can do is to stop trying so crazy hard.
It's like drowning victims who are so panicked, they fight the person who's trying to rescue them.    Sometimes, the harder we try, the further we get from where we most need to be.
So instead, I've taken up resting for Lent this year.  I met with a nun on Ash Wednesday and agreed to do two simple things each day for the next 40 days: 20 minutes of Centering Prayer (which is staying quiet and listening to God instead of doing all the talking), and listing everything I'm thankful for at night.
And other than that….I'm going for walks, sleeping, reading novels, listening to music, cooking meals from scratch and having long conversations with good friends.
It's humbling to feel like I'm in a place where I have so little to offer, and yet this is the whole point of Lent and the Easter story, right?  That even when we were lost, even before we knew who God was, even before we knew how to try, God set things in motion to come after us.  God pursued us in love, carried the world on his back up the hill of Calvary, and then laid down and died for us.
Here's a poem I discovered in college that I've been reading and re-reading this week.  I hope it encourages you, too.
The Stairs
by Theodosia Pickering Garrison
Oh long and dark the stairs I trod,
with stumbling feet to find my God,
Gaining a foothold bit by bit
Then slipping back and losing it.
There came a certain time when I
Loosened my hold and fell thereby,
Down to the lowest step my fall
As if I had not climbed at all.
And as I lay despairing there,
there came a footfall on the stairs
And 'lo' when hope had ceased to be
My God came down the stairs to me.